Results and score calculation
The disease matching score is determined by the following parameters:
The number of genes in the gene set that match a specific disease normalized by the total number of genes specifically associated with the disease.
The quality and type of the gene-disease relations. Each gene in each disease has a score derived from its relations to the disease, as annotated in MalaCards sources.

As described above, there are three types of relation:
The quality of the match is assessed by the GeneAnalytics algorithm and is categorized as high, medium or low. The match quality level is indicated by the color of the score bar.
The distribution of the matching qualities across the results list is presented as an overview of the overall matching quality.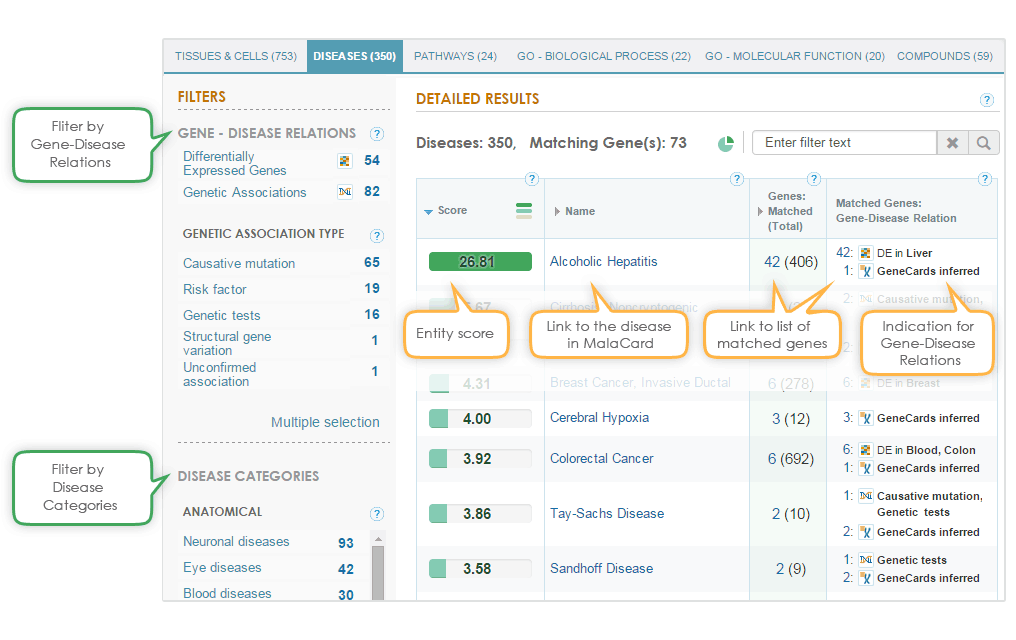 The matched diseases can be filtered either by the gene-disease relation or by MalaCards categories (see below). The gene-disease relation filter filters results to present only diseases that have either known differentially expressed genes or genes with genetic association to the disease.
Importantly, there are different types of genetic associations, which can be used to further filter the results, using the "genetic association type" filter.
 Read more about Genetic association types.